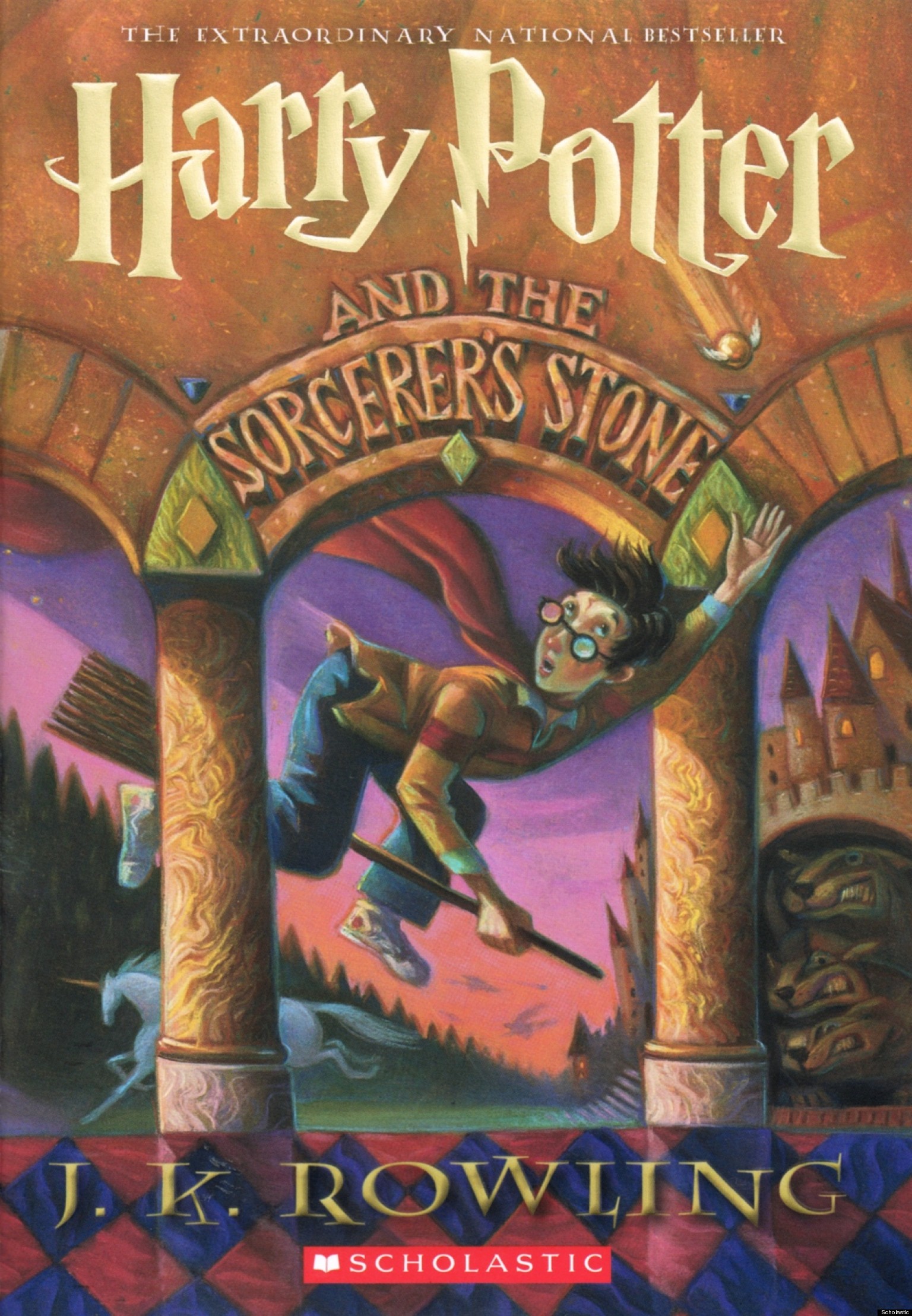 Disclaimer: For the sake of the sanity of various family members I need to state outright that I did not leave THE church for Harry Potter. As in it did not drive me from Christianity.
Now we can proceed.
While I was brainstorming exactly how this site should run over the course of next year , I decided that I shouldn't include any re-reads. I have a small collection of well-loved books that I like to think of as "comfort novels". You know the ones. The old favorites that you've read and re-read to the point where you can quote them line for line. The ones that are like curling up with an old friend. My personal collection of comfort novels includes Gone With the Wind, The Clan of the Cave Bear, Memoirs of a Geisha, and Pride and Prejudice. And of course, Harry Potter. Once I realized that I was effectively banning myself from reading Harry Potter for an entire year, I was of course overwhelmed with a burning desire to read Harry Potter. So before the new year rolls around, I've decided to take a nice relaxing stroll back into Hogwarts and spend the holiday season unwinding with a series that has had a significant impact on my life and the life of millions of others. So grab a cup of hot chocolate, snuggle down in the warm glow of your tablets, and I'll spin you the tale of how Harry Potter became a book I would have to fight for.
When I was about eleven years old, my language arts teacher decided to spend the first five minutes of every lesson reading aloud to us from Harry Potter and the Sorcerer's Stone. My parents, who had recently watched a Fox News broadcast which suggested that Harry Potter was leading schoolchildren to form Satanic cults or something, talked about having me pulled out of class. However, they were already too late. Harry had just unleashed a boa constrictor on his cousin and I was hooked. I threatened to purposely fail my classes if they had me removed. Thankfully, once they saw how much the books meant to me they relented. Perhaps they noticed that I had made my way through three of the novels and had yet to sacrifice the family cat to Mephistopheles. In the summer of 2000 my Dad even ended up driving me to Walmart at midnight so I could buy The Goblet of Fire. This was the first time I went to battle over Harry Potter but it was not to be the last.
The summer after my wonderful teacher introduced me to the world of Hogwarts, I went away for a week to a sleep-away Christian Bible Camp. At the time, joining one of the local churches had seemed like a great way to make new friends, as I was still relatively new to a small town. I'd actually lived there for nearly three years at that point, but it was a small enough town that we were still the "new" family. Anyway, I was really excited to spend a week hiking and swimming with the girls from my youth group.
Turns out, the emphasis at this particular summer institution was on "Bible" far more than it was on "camp". If memory serves, there was a two hour sermon in the morning, another two hour sermon in the afternoon and a group bible discussion every evening. Now this was your proper Southern Baptist sermon. Lots of singing and dancing and praising of the Lord. It's actually a pretty rousing good time. But that's still a lot of church for a twelve-year old.
Towards the end of the week, we had a guest pastor. He arrived with a Powerpoint presentation and proceeded to spend the next two hours detailing all the myriad temptations that would befall us and lead us down the dark road to hell. His list included, but was not limited to:
Dungeons and Dragons
Madonna
Looney Tunes
Yoga
Video Games
The Backstreet Boys
and of course, Harry Potter. Now, I think he had written this sermon back in the 1980's (none of had ever played D&D and Madonna was something my mom danced to after a few glasses of wine) but he had updated it to include a few of the more modern evils. He latched on to Harry Potter with particular vengeance. It was foul and wicked and tempted children away from God. It taught witchcraft to impressionable youth and as we all know from Exodus we "must not suffer a witch to live".
As I sat there, becoming more and more confused and angry,  a voice piped up from the congregation, asking the pastor if he had ever actually read any of the Harry Potter novels. He, of course, had not. Another girl chimed in, saying that she had read them and that the books embodied such themes as friendship, heroism, maternal strength, and the power of love to triumph over evil. None of which, in her opinion, pointed one down the road to hellfire. Their voices gave me courage, and I found myself on my feet, agreeing and adding my voice to theirs. Honestly I cannot remember for the life of me what exactly I said to this pastor. I was scared out of my mind. This was probably the first time I had ever actively disagreed with an adult that wasn't a family member.
Now as some of you may know, it is difficult if not impossible to coherently argue with a self-righteous evangelical. The discussion lasted for only a few minutes before he abruptly switched topics. Perhaps to point out that glitter nail polish was an affront to God. Everyone sat back down and the sermon carried on more or less normally from there. But the damage was done. A thin crack appeared in my worldview that day. I had raised doubt with a member of my church. I had dared to object to his teachings. It made absolutely no sense at all at the time. But in hindsight I have always looked back on this week at bible camp as the first time I began standing up for what I believed in. To question and demand real answers to those questions. All thanks to one fictional boy with a lightning shaped scar.
After I got back home, I stopped going to that particular church. It bothered me in a way that I could not express at the time that none of my friends at camp had stood to support me. Instead, I think they were embarrassed that I hadn't quietly agreed with the pastor. It also bothered me that the man was so eager to judge that which he knew nothing about. So I quietly began seeking out a more tolerant congregation.
Looking back, I realize this story doesn't seem particularly exciting. I didn't shout down the guest pastor and storm out in a fury. I didn't demand that my parents come and rescue me. All I did was stand with others to show my opposition to his teachings.
But isn't that one of the most important lessons that a child can learn?
So I'm going to snuggle up in my blanket and continue reading Harry Potter while it snows outside. And I'll give a silent thank-you to Harry, Ron, Hermione, and J. K. Rowlings for helping me to learn some valuable lessons.
Ashley