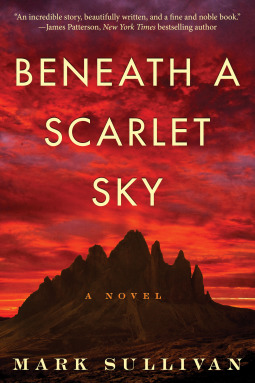 Review #3
Beneath A Scarlet Sky is a novel set in the city of Milan during the final year of World War II. Pino Lella begins as an ordinary teenager, obsessed with girls and excited about learning to drive. When he is evacuated to a seminary school high in the Alps to escape the Allied bombings , Pino finds himself risking his life to escort Italian Jews over the precipitous heights of the mountains to sanctuary in Switzerland. This sets him on a course of danger and espionage that will echo throughout his life and the lives of his family.
It is very important to read both the foreword and the afterword that Sullivan uses to bookend his novel. Pino Lella is a real person, who is still alive as of the publication of this review. In the foreword, Sullivan details how he stumbled across the story of this unsung hero and how he managed to track Lella down and record his memories of Italy in 1944. Sullivan is also very clear that Beneath A Scarlet Sky is a work of historical fiction.  Some of the events and characters seem a little too contrived, and this has led some people to claim that the all of the events detailed within the pages of the book are therefore falsehoods. Since we only have Sullivan's word to go on, it is left to the reader to determine what is true and what is false.
I chose to believe the story of Lella's life. The story is told in too straightforward a manner to have been fabricated in any large part. One of the things that makes Sullivan's novel so magnetic is that he largely avoids any subplots. He focuses on Pino Lella's specific story with utter precision. There are few extraneous descriptions of people or scenery. We view this story through Lella's eyes entirely, and therefore his becomes the only voice that matters. We feel his desperation as he leads terrified refugees over the dangerous alpine cliffs into safety. We are there with him as he fears for the lives of his brother, his uncle, his parents. The reader is given only as much information as Lella has. Since most of the education I was given on WWII focused on the German and Japanese fronts, this was a very informative look into what Sullivan describes as the "Forgotten Front".
My favorite aspect of this novel is that it was utterly unpredictable. Most literature follows a relatively straightforward arc. Exposition, rising action, climax, falling action, resolution. But real life rarely follows such simple lines, and I often felt wrong-footed while reading this novel. Characters I thought would live did not. Characters I expected to die did not. No one's story wraps up neatly in a bow, instead it all just kind of ends. Not all heroes are remembered and not all villains get their comeuppance. Throughout the dozens if not hundreds of historical fiction written on WWII, I found this novel, with its infinite number of unanswered questions, to be one of the most haunting.
Overall, I would highly recommend this novel. I was immediately drawn into the story of Pino Lella's life, and finished the book eager to research and learn more. Unfortunately, his story remains largely unacknowledged outside of Sullivan's pages.
My rating: 4.5/5
You can find Beneath A Scarlet Sky here on Amazon or here on Book Depository.
Happy reading everyone!