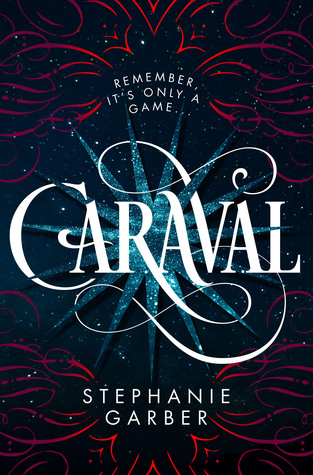 Review #9
Having spent her entire life on the island of Trisda and under the thumb of her bullying father, Scarlett Dragna has dreamed for years of Caraval. A yearly game run by an enigmatic man known only as Legend, Caraval entices participants with the prize of a single magical wish. With the help of a renegade sailor, Scarlett and her sister Tella escape their island and arrive at Legend's magical island. But Scarlett quickly learns that nothing in Caraval is what is seems, and the consequences could be deadly.
The last two books I read for this blog were both about horribly dysfunctional families and the lasting scars they leave on their children. Having been through the emotional wringer, I wanted my next book to be something a little lighter. I chose Caraval because its cover is gorgeous and I knew it was YA fantasy. Turns out I might have swung the pendulum too far in the other direction.
Caraval is a fantasy that exists in a vacuum. The novel opens on the "Conquered Isles" in "Year 50 of the Elantine Dynasty". Yet we are never told why these Isles were conquered, or by whom. What is the Elantine Dynasty, and what happened fifty years ago to set it in place? A lot of the place names are derived from Spanish such as the hotel La Serpentiene and the Castillo Maldito. Even the name of Scarlett's home island, Trisda, comes from triste, the Spanish word for sadness. So we're on Earth? In the past or the future? None of these questions are addressed which made it increasingly difficult to envision this world as a place that has weight and meaning.
Caraval is also a fantasy that exists without any meaningful character description. The only thing we know to be true of Scarlett is that she loves her sister. This is repeated twice a page, lest we should forget. When the generic love interest is introduced, we are subjected to the familiar "I hate him but he's so intriguing". Which of course changes without warning to "I cannot live without him".
Then there are descriptions such as this:
"He tasted like midnight and wind, and shades of rich brown and light blue. Colors that made her feel safe and guarded."
What does that even mean? What the hell does midnight taste like? But that's not the only example:
"The world tasted like lies and ashes when Scarlett woke."

"Every touch created colors she had never seen. Colors as soft as velvet and as sharp as sparks that turned into stars."
"She remembered thinking falling for him would be like falling in love with darkness, but now she imagined he was more like a starry night: the constellations were always there, constant, magnificent guides against the ever-present black." 
None of that makes a bit of sense, and it kept pulling me out of the novel because I had to roll my eyes. I can get on board with a bit of purple prose, but when you use it at the expense of actual character development it becomes tedious.
The biggest problem was that, at the end of the day, this book was not written for me. It was written for thirteen year old me. Thirteen year old me would have bathed in all of those overly romantic descriptions. She would have reveled in the countless descriptions of gorgeous ball gowns. She would have relished the oh-so passionate and yet determinedly chaste romance between Scarlett and Julian. This book was written for thirteen year old me. Thirty year old me is just too savvy (cynical?) to fall for it.
In the immortal words of Agent Murtaugh, I'm getting too old for this shit.
My rating: 2/5
You can find Caraval here on Amazon or here on Book Depository.
Happy reading everyone!