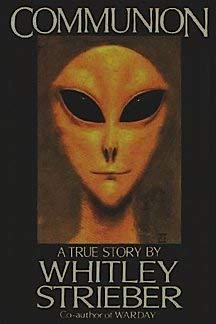 Review #11
"Mister Mulder, why are those like yourself, who believe in the existence of extraterrestrial life on this Earth, not dissuaded by all the evidence to the contrary?"
"Because, all the evidence to the contrary is not entirely dissuasive."
"Precisely"
The X-Files (1993-2002)
Reading Whitley's Strieber's Communion, this quote from The X-Files kept flashing into my mind. According to the preface, this book was considered highly controversial when it was released in 1988. However, thirty years of science fiction in the form of the aforementioned TV show, as well as other television programs such as Falling Skies and V, films such as The Fourth Kind and Dark Skies, and even children's books such as the Animorphs series have all prepped my imagination to accept the idea of alien abduction and invasion with a far more open mind than would have been normal at this time of this book's publication. I did not find anything particularly "shocking" between the pages of Communion.
Instead, I was left wondering how many of the alien abduction tropes that pop up in so much of pop culture originated, or were at least fueled by Strieber's memoir. The running theme of anal probing makes an appearance, as does the idea of owls as a screen memory for the alien visitors. The unnaturally thin aliens with huge black eyes that are depicted here are the same ones that people have been describing for decades.
Communion is split into roughly three parts. The first segment details the events that forced Strieber to wonder if he was being taken by "visitors". (Note: he rarely uses the word "aliens" and instead offers up several theories that these beings aren't from outer space at all). Strieber is able to give an immense about of detail about the physical appearance of these visitors and everything that was done to him one night in December of 1986. These early chapters are probably the most interesting, but also read the most like fiction.
The second segment deals with Strieber trying to figure out if he is losing his mind. He visits hypnotherapists and discovers repressed memories of these visitors from his early childhood. There are full transcripts offered from these hypnosis session, which are stream-of-consciousness in style and incredibly difficult to follow. (Note: We also know now that hypnotherapy is an incredibly imprecise branch of psychiatry, and can often result in the placing of false memories inside the mind of the patient). Strieber then wonders if he has epilepsy, and explores that route through a variety of medical professionals. Strieber adamantly wants his readers to believe that he explored every viable medical and scientific option to explain away his memories before he was forced to admit that he truly was being taken against his will by visitors. (Note: The now popular explanation of sleep paralysis is never explored, possibly because it was not fully understood in the late 1980's).
The third section of Communion is the gathering of witnesses. Strieber convinces his wife to undergo hypnosis, and her transcripts seem to corroborate his account. We are then presented with transcripts from group sessions, wherein Strieber and other self-proclaimed abductees compare and contrast their various stories. This part was actually very interesting, and the strange similarities between the stories are worth a second look.
The last twenty pages go completely off the rails. This was the only part of the book where I thought that Strieber may have been under the influence of a great deal of marijuana. He uses obscure Aztec, Hindu, and Sumerian poetry to discuss the importance of the duality and trinity of life. He uses the mystery of the Sphinx to talk about the idea of ascending to a higher state of consciousness. He throws in everything but the kitchen sink, and then tosses the kitchen sink in for good measure. While reading the final section of Communion, I found myself wishing that I too were under the influence of a great deal of marijuana.
It is completely impossible when reading Communion to leave your preconceptions at the door. If you are a hardcore skeptic, than the memoir will read as the ramblings of an attention-seeking man spouting nonsense. The fact that Whitley Strieber was a moderately successful horror writer before the publication of this book is a pretty damning black mark in favor of the skeptics. If you are an affirmed believer in UFOs and abduction theories, than this book will only confirm and intensify your previously held beliefs. Personally, I've always tried to maintain an open mind when it comes to the unexplained things experienced on the Earth. It is impossible to prove a negative, therefore I cannot state with any certainty that Earth hasn't been visited by creatures from another world. Therefore, I left Communion with very much the same opinions that I entered with. Alien abduction is a possibility, but not a likely one.
My rating: 2.5/5
You can find Communion here on Amazon or here on Book Depository.
Happy reading everyone!