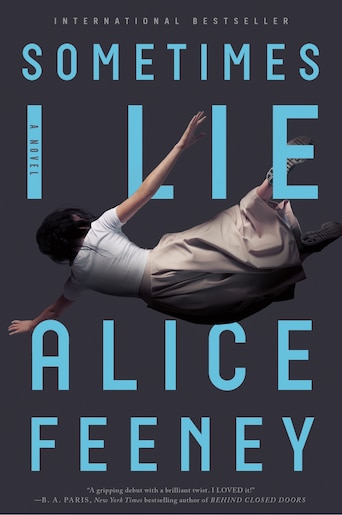 Review #35
My name is Amber Reynolds. There are three things you should know about me: 
1. I'm in a coma.
2. My husband doesn't love me anymore.
3. Sometimes I lie
Amber Reynolds wakes up in the hospital, unable to open her eyes or move her body. She can hear the people around her, but cannot respond. Amber is in a coma, but can't remember anything about the accident that put her there. Alternating back and forth between the days leading up to the accident, her incapacitated present, and a series of diary entries from twenty years before, Alice tries to piece together the mystery of what happened before it's too late.
Last year I wrote about publishers who feel the need to advertise the "surprise twist ending" on the front cover of their novels. It spoils my enjoyment of reading when I am constantly trying to figure out what the twist is before it happens. It screams of laziness and click-baiting. I began this novel in a state of mild dismay that the twist ending was given away on the front cover. Also, because the publishers have already seen fit to spoil the novel, I won't lose any sleep about giving away a few plot points. You've been warned.
When choosing fiction novels, I tend to gravitate towards horror, fantasy, and science fiction. Even though this was a bit outside of my usual, Sometimes I Lie started off strong and captured my interest in the beginning. Amber tells us straight away that we cannot trust her memories, so her narration is therefore unpredictable and suspicious. She appears to suffer from a mild case of OCD, and is both selfish and self-centered. Therefore, she was relatable in a world where too many female characters are manic pixie dream girls. The chapters set in the early 1990's are clearly written by a troubled child, and I immediately sympathized with a sad, lonely girl who is struggling to discern the difference between truth and fiction. Author Alice Feeney crafts her characters with care, and sets them loose in a world that has been built in a realistic manner.
Towards the end of the novel, however; things started to spin out of control. The first plot twist was interesting and honestly surprised me. The second one made things a little confusing. The third twist left me rolling my eyes and muttering about overkill. It wasn't that Feeney set up red herrings; in fact everything fell into place by the end of the book with surprising ease. It all just felt so unnecessary.
In the end, if you are a reader who enjoys the "twisty thriller" genre, you will probably love this book. Personally, I enjoyed it, but in a superficial way. Sometimes I Lie was a fun diversion, but I doubt that I will remember much of the plot after a few months.
My rating: 3.5/5
You can find Sometimes I Lie here on Amazon or here on Book Depository.
Happy reading everyone!