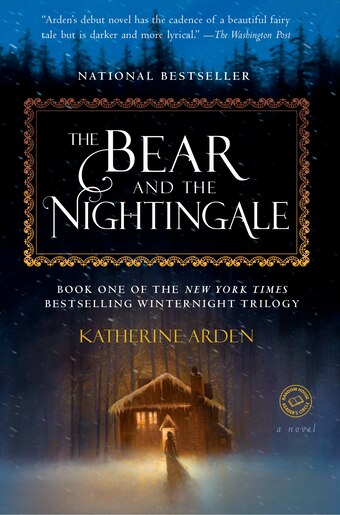 Review #30
In 13th century Russia, the world is ruled by icy grip of winter. Into this cold and unforgiving world, a young girl named Vasilisa Petrovna is born utterly at home in the forests and snowdrifts around her village. She lives her days roaming the forests against the wishes of her father and her nights curled up listening to the fairy tales spun by her nursemaid. But her life changes forever when two new people show up in her village. The first, her new stepmother Anna, fears and hates the wild streak that runs in her young stepdaughter. The second, a priest named Konstantin, is determined to turn his new flock away from the worship of the old spirits and towards the teachings of the Orthodox Church. He too is threatened by the defiance and spirit shown by the young Vasilisa. She has also captured the attention of one far more dangerous, a dark figure with piercing blue eyes who becomes bolder as midwinter approaches.
Everyone knows the old platitude. "Don't judge a book by its cover." Well I love judging books by their covers. Especially when the cover is as mysterious and beautiful as Katherine Arden's debut, The Bear and the Nightingale. When I decide to judge a book by its cover, I generally refuse to read even a short synopsis, so I went into this novel with absolutely zero expectations. Within the first chapter I felt myself entwined and entranced in this dark and romantic fairy tale, so much that I could almost feel the howling winds of Russian winter outside my window.
At its heart, The Bear and the Nightingale is about the struggle between the old ways and the new. In the Middle Ages, as Catholicism slowly but thoroughly steamrollered its way across Europe, how many of the ancient spirits were left to wither in its wake? In this way I was reminded of Neil Gaiman's amazing novel, American Gods. But while Gaiman deals in the bitterness of those abandoned gods, Arden's novel instead focusing on their sadness and confusion as they find themselves rejected by those who had left them offerings for generations.
Arden's prose is dark and lyrical and completely mesmerizing. Her heroine, Vasilisa, is strong and independent while still maintaining a sense of vulnerability. She behaves in the only manner she knows how, and is utterly bewildered when people begin to whisper that she is dabbling in witchcraft by continuing to practice the old ways. How can it be witchcraft to hold to the same traditions that her people had held to only years before? I also loved the descriptions of the numerous little sprites and spirits that inhabit Vasilisa's world. There are spirits that tend the oven, spirits that protect the horses, and so on, all of which have their roots in Russian folklore. Because Vasilisa is the only one who can see these entities (at first) it comes as no surprise that she seeks to aid them when they begin suffering from lack of care.
I would highly recommend this book for any audience. I am greatly anticipating the sequel.
My rating; 5/5
You can find The Bear and the Nightingale here on Amazon or here on Book Depository.
Happy reading everyone!