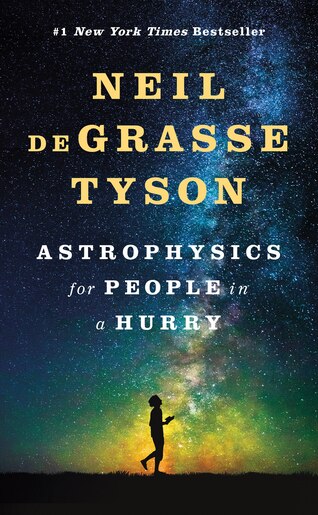 Review #32
"We are stardust brought to life, then empowered by the universe to figure itself out—and we have only just begun."
Most of us have looked up at the night sky at one time or another and asked ourselves about the nature of the universe. What is the relationship between time and space? What fills up the empty spaces of the cosmos? And what is our place in the scheme of it all? Renowned astrophysicist Neil deGrasse Tyson boils these burning questions down to their essence, and explains them in a way that the average person is capable of understanding.
"In the beginning, nearly fourteen billion years ago, all the space and all the matter and all the energy in the known universe was contained in a volume less than one-trillionth the size of the period on the end of this sentence."
Together with Carl Sagan, Stephen Hawking, and Bill Nye, Neil deGrasse Tyson is on a short and esteemed list of scientists that are easily recognized by most adults. Part of this is because when you see him on television, his enthusiasm is purely and utterly infectious. Tyson never lost that wonder that so many children feel when they first learn of the universe spinning and burning outside of the Earth's atmosphere. He combines this sense of excitement with an staggering intellect in his most recent book. Every line of Astrophysics is teeming with exhilaration. While reading, I sometimes got a mental image of an energetic five-year old, dragging me around by the hand to show me all of his favorite toys. That is, of course, if the five-year old then rattled off complex mathematical formulas to explain how those toys worked.
As a theoretical physicist, Tyson's mission in life is to poke at the universe with a stick, trying to see what might pop out to say hello. He manages to sound colloquial even when he's talking about immensely complicated topics such as dark matter and the theory of relativity. One of my favorite chapters was where Tyson lists half the elements in the periodic table and explains which ones have always been around and which one are more recent discoveries. As someone who barely passed high school chemistry, I was surprised how interesting the subject matter can become when you have a teacher who knows how to break a subject down to its core.
I will not lie to you and say that I understood all of what Neil deGrasse Tyson was trying to communicate. I'm an English teacher. I can rattle off big "literary" sounding words all day, but I struggle to comprehend the language of science. At a mere one hundred and ten pages, this should have been a reasonably quick read. However, I felt myself having to read each paragraph two or even three times to puzzle out the meaning. I think the most important thing that I took away from Astrophysics was a greater sense of wonder and curiosity. I still have no real idea what a quasar is. But I have a better understanding and respect for those who do. Some of Neil deGrasse Tyson's delight in the mysteries of the universe has rubbed off on me. I'm looking forward to the next time I am out in the country, where I can just look up at the night sky and try to puzzle out the magnitude of what I am seeing.
My rating: 4/5
You can find Astrophysics for People in a Hurry here on Amazon or here on Book Depository.
Happy reading everyone!
P.S. It was while in the midst of this book that I heard about the death of Stephen Hawking. This post, meager and unworthy though it is, is dedicated to his wondrous lifetime of progress and achievement in the world of science.