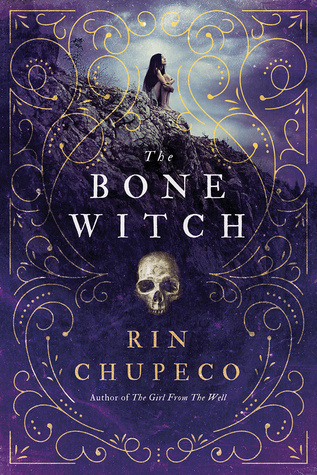 Review #34
When her brother is killed by an evil monster, Tea surprises herself and her entire village by resurrecting him from the dead. All of her sisters have some magic, but Tea now finds herself destined to be a bone witch, a necromancer. Feared and shunned by her community, Tea travels to Kion, where she can gain the training that she desperately needs if she hopes to control her powers. She quickly learns that her Dark gifts come with a heavy price.
I've read the first two novels by author Rin Chupeco. The Girl in the Well and The Suffering are both excellently crafted horror novels that left me very excited to read her next book. With a title like The Bone Witch, I assumed that Chupeco's third book would be yet another foray into the world of horror. Instead, I found myself submerged in high fantasy, where magic has a concrete and useful place in society and those who can control the elements are celebrated.
The bulk of The Bone Witch could just as easily be titled Memoirs of a Magical Geisha. For nearly two hundred pages the reader is treated to numerous descriptions of the dwellings of the magical asha, the clothes they wear, the training they undergo, and the parties they attend. Instead of any meaningful use of magic, there are the mundane problems of political alliances, rivalry between competing asha, and annual dance performances. This is all very useful in setting up the fantasy world that the asha inhabit, but it does wear a little thin towards the end.
Each chapter of the novel is preceded by a short flash-forward, where Tea has been banished to a lonely cave by the sea. She reveals early on that she is raising an army of dark spirits to enact revenge upon those who have wronged her. However, the book ends before the two segments of time intersect. The reader is left trying to figure out why Tea has been banished and exactly who she is so keen to take revenge on. It felt a little like a bait-and-switch to spent two hundred pages reading about her training in the village of the Willows, only to have the novel end before anything meaningful has taken place.
I assume all of this will be resolved in the recently released sequel, but there is a different between ending a novel on a cliff-hanger and ending a novel in the middle of the rising action. Ending the narrative with a cliff-hanger leaves the reader hungry to find out what is going to happen next. Ending a novel midway through the rising action leaves the reader frustrated and annoyed. I definitely found myself in the latter category.
My rating: 3/5
You can find The Bone Witch here on Amazon or here on Book Depository.
Happy reading everyone!