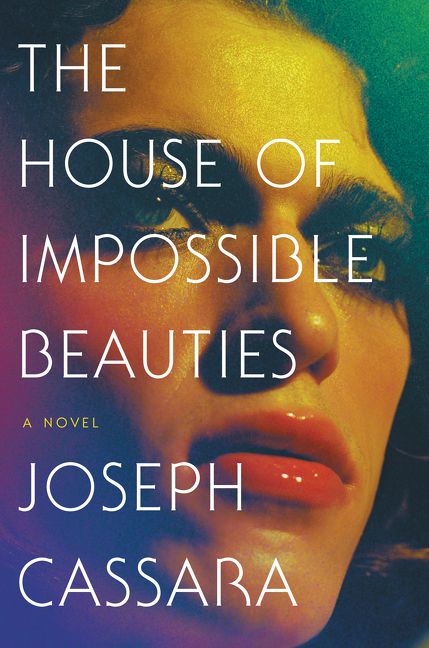 Review #37
The glitter and glamor of the Harlem drag ball scene is described through the eyes of four young transvestites. Together they form the house of Xtravaganza, led by Angel who is recovering from a dark past. Beneath the excitement and energy, all these women try to fight against the allure of drugs and the rising threat of AIDS.
"So I always say that when the world calls you a slut, just kick back your legs and fuck and enjoy it. Because if life don't call you a slut, she's gonna find something else to call you."
The early pages of Joseph Cassara's debut novel, The House of Impossible Beauties, are a little confusing. There is a fluidity of pronouns and personal names that make it difficult to determine exactly who is speaking at any given time. It also helps while reading this novel if you have some background in Spanish, as Cassara often interjects English sentences with Spanish phrases. Not being able to understand these phrases will not necessarily detract from the overall plot, but it did have the effect of constantly pulling me out of the novel while I tried to dredge up the remnants of my high school Spanish.
The House of Impossible Beauties switches perspective between four young drag queens who have moved to New York with tall dreams and even taller heels. Angel yearns to create a family to replace the one that rejected her. Venus strives to find someone who will love her for who she is and take her away from a life walking the piers at night. Juanito is a gentle and shy boy who lives to create his own fashions and dreams of seeing them walk down the runway at the drag shows. And Daniel is a tough butch queen who refuses to take shit from anyone, until he falls in love. These four band together to try to make a life for themselves in a world that has given them only disgust and revulsion.
All of this takes place against the background of the 1980's drag queen ball culture, where the women are straddled between two very different lives. On one side, there is sisterhood and pride, strutting attitude and false eyelashes and desperate hope. On the other side, there is a life of turning tricks in the backseats of cars, of battling addiction, depression, and the cruelty of society. And in the background, like a horrible looming spider, is the threat of HIV and AIDS, a virus so terrible that it threatened to wipe out this community in its entirety. Like Shakespeare's Scottish play, it is never directly referred to by name, as if to invoke its name would be to tempt death itself.
As I was reading, Darren Aronofsky's horrifically beautiful film Requiem for a Dream kept flashing into my mind. There are the shared themes of people building castles in the sky and watching them crash down around their heads. There is the same sense of reckless hope that fuels a manic energy. And when the flame of that hope dwindles, all anyone is left with are the ashes.
Filled in turns with rage, romance, grief, and tenderness, The House of Impossible Beauties is a poignant and evocative novel. I would definitely recommend it.
My rating: 4/5
You can find this novel here on Amazon or here on Book Depository.
Happy reading everyone!