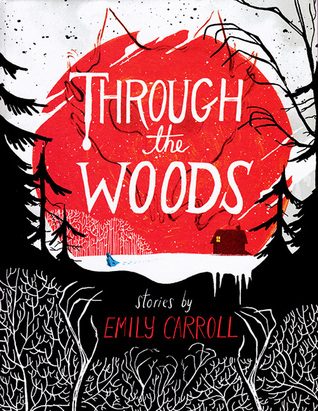 Review #53
This graphic novel consists of five eerie short stories, all centered in some way around the woods and the terrors that lie within. Written and illustrated by Emily Carroll, she invites us to take a walk through the woods, but beware of what we may find in the darkness.
I have a strange love affair with the macabre. From the time I was very young, I've been drawn to the dark and scary things in life. I'm well versed in the world of horror films, novels, and podcasts, but Through the Woods represents my first foray into the world of horror-themed graphic novels. Needless to say, I've been thoroughly hooked. I'm already on the prowl for more graphic novels like this one.
Part of what makes Emily Carroll's collection of short stories so mesmerizing is that she uses very simple language to convey a sense of dread and suspense. I always feel that horror writers have a tendency to go into too much detail about their various dreadful creatures. This bogs the narrative down and doesn't leave enough room for that feeling of unease to creep in. Carroll takes inspiration from the works of Edgar Allen Poe and Shirley Jackson. She keeps her sentences short and to the point, allowing the reader's imagination to fill in the gaps, understanding that a person will always draw the conclusion which they fear the most.
Then there are the illustrations. While the narrative structure of the story was haunting in a subtle and lyrical way, the pictures are genuinely unsettling. I found myself staring at each individual panel for long moments, trying to soak in every single aspect. As a newcomer to the horror genre of graphic novels, I was surprised by how powerful the graphics were at provoking a reaction. I would not have pictured the events of Through the Woods in the same way that there are depicted in Carroll's illustrations. Reading these stories in graphic novel form was like crawling inside of someone else's brain for a few hours. The brain of a brilliant and disturbing individual.
If you're a fan of the horror genre, I would absolutely recommend this book. I am already sad that I had to return it to the library, as I wanted the chance to re-read it and look more closely at the illustrated panels. In the future, I'm going to keep my eye out for more graphic novels like this one.
My rating: 4.5/5
You can find Through the Woods here on Amazon or here on Book Depository.
Happy reading everyone!