When confronted with grief or loss in my life, I often find comfort in books. Below is a list of books I've read that have helped me confront difficult times.
 A Monster Calls by Patrick Ness
Thirteen-year old Conor awakens one night to find a monster at his window, but not the monster he's been expecting. Since his mother began treatment for cancer, he's been having nightmares of a monster nearly every night. But what he finds is something ancient and wild, who promises Conor a secret in exchange for the truth.
Patrick Ness has a special talent for tapping into the fears and wishes of childhood. A Monster Calls is by turns frightening, funny, and heart-wrenching.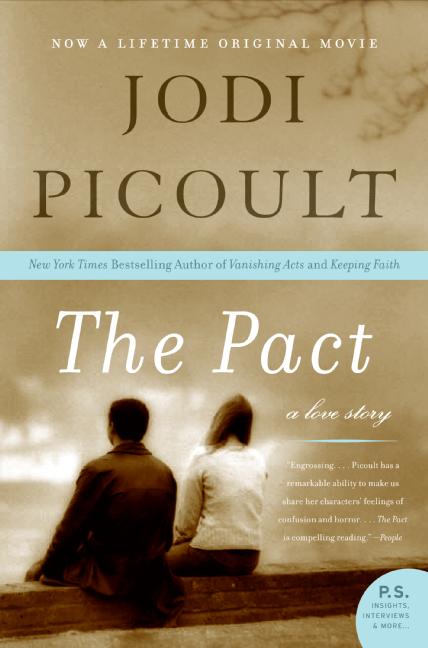 The Pact by Jodi Picoult
The phone rings at midnight. Seventeen year old Emily is dead from a gunshot to the head. Her boyfriend, Chris, tells the police that the single other bullet in the gun was meant for him, as part of a suicide pact between the couple. In the coming days, their families begin to wonder if they ever really knew their children at all.
Jodi Picoult's novels are generally guaranteed to make you ugly-cry, and The Pact is no exception.
The Art of Racing in the Rain by Garth Stein
This novel is told from the perspective of Enzo, a golden retriever who carefully watches his master in order to understand the humans around him.
This book was sometimes funny, sometimes sad, but ultimately cathartic and refreshing as it deals with family, love, and loyalty.
The Lovely Bones by Alice Sebold
After a predator lures her into a trap Susie Salmon finds herself in heaven, watching as her family struggles to cope with the devastating loss of their young daughter.
I had heard a lot of great things about this book before I finally picked it up. I was initally worried that it was going to wallow in melodrama but author Alice Sebold paints a calm and refreshing portrait of the afterlife in which everyone can enjoy themselves and be at peace.
This is Where I Leave You by Jonathan Tropper
Until the death of Judd's father, the Foxman family hasn't come together in years. Still reeling from the collapse of his marriage, Judd joins his family to fulfill his father's dying wish, to spend a week together in their home, together. As a family.
This novel made me laugh out loud while it was making me cry. It's a wonderful story of the bonds of family, marriage, and all the other ties that bind people together whether they like it or not.
 The Revised Fundamentals of Caregiving by Jonathan Evison
Ben Benjamin is broken, unemployed and aimless following the death of his child. He ends up becoming a caregiver to an angry young man named Trevor who suffers from advanced muscular dystrophy. Together the two embark on a road trip and learn what it really means to care for another person.
Another book that made me laugh, this novel by Jonathan Evison uses a very deft hand at mixing comedy and sadness. This is a book that left me feeling uplifted and hopeful.
 Everything I Never Told You by Celeste Ng
Teenage daughter Lydia is the pride and joy of her Chinese-American family, her parents are determined to see her fulfill the hopes and dreams that they worked towards their entire lives. Until her body is pulled out of the local lake. Now Lydia's parents find themselves spinning into chaos as Lydia's secrets begin to surface.
Celeste Ng does an excellent job of unraveling the complicated connections that exist between parents and their children. This novel was powerful and left me with a heavy heart.
 The Song of Achilles by Madeline Miller
Narrated by Achilles' childhood friend Patroclus, this novel deals with the ancient legend of Troy through the eyes of someone who sees the great hero as a friend and lover rather than a warrior.
Madeline Miller is quickly becoming one of my favorite authors. I loved this interesting spin on the Battle of Troy. She does a great job of portraying the human cost of a legendary war.
 The Giving Tree by Shel Silverstein
This short children's book kept popping into my mind as I was putting this list together. While it is not necessarily a story that deals with death, it does deal with loss in a very interesting way. Seeing how the giving tree gives everything it has to the boy, only to find itself alone and unwanted, has always hit me hard. It's a powerful allegory of the bond between parents and their children.
The Harry Potter series by J.K. Rowling
In my opinion, there are few situations that are not covered perfectly by the Harry Potter novels. J. K. Rowling delves carefully but masterfully into the anger, fear, and loss that can accompany the death of a loved one. I felt as though I was experiencing that grief along with the characters, and there are some losses that resonate with me even now.
If you're reading this, hopefully one of these novels can help you find the solace you're looking for. If there are any other books that you would recommend to those dealing with a loss, let us know in the comments section!
Happy reading everyone.
This post is dedicated to the memory of Donna St. Julian, who inspired a lifetime love of reading and who will be in my thoughts every time I open a new book.