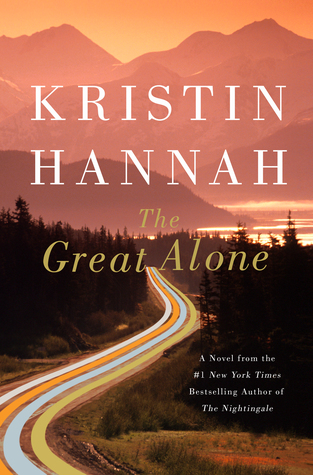 Review #72
Vietnam POW Ernt Allbright is struggling to adjust to post-war life. In the summer of 1974, unable to hold a job and struggling with anxiety and anger issues, he makes the impulsive decision to move his wife Cora and thirteen year old daughter Leni to the wilds of Alaska. His plan is to live off the grid, away from the eyes of the government he feels has betrayed him.
The Great Alone focuses on Leni Allbright as her family struggles to adjust to life on the last frontier. Upon their arrival in Homer, it becomes readily apparent that they are woefully unprepared for life in the unforgiving Alaskan environment. The tight-knit community of locals pitch in to help the Allbright family prepare for the eight month winter that looms large in the minds of all. More troubling for Leni is the turbulent and often violently passionate relationship between her parents. The endless nights bring a return to Ernt's anxiety, and he becomes increasingly volatile as his mental state deteriorates.
This novel by author Kristin Hannah is first and foremost a story about love. Romantic love plays its own role as we are exposed to the tangled codependency between Ernt and Cora. But it is also the story of the love between a mother and daughter, a community towards one another, and a person towards the wilderness that comes to define them. Leni's confused and often desperate love for her father is mixed with fear and eventually hatred. Her love for her mother is a constant thread through her life, even when Leni begins wishing she could extract herself from the increasingly toxic relationship between her parents. There are so many intertwined relationships represented in The Great Alone that they become impossible to separate, which gives this novel its emotional core.
With this book, Kristin Hannah has written a love letter to Alaska. Numerous descriptions of endless days where the sun never sets, majestic mountains in shades of purple and gray, and orca whales diving in azure waters all come together to make some of the most breathtaking imagery I've read in a book for a long time. I've never really thought of Alaska of being a place that I wanted to visit. At one point while reading The Great Alone, I began looking up Alaskan cruises.
I  had been hearing about Kristin Hannah for a few years now, and this is my first novel by the bestselling author. I immediately knew that I was going to have to read some more of her works. Similar to my first experiences with Kate Morton, Tana French, and Mira Grant, I immediately knew that I had found a new author to add to my "must-read" collection.
My rating: 4.5/5
You can find The Great Alone here on Amazon or here on Book Depository.
Happy reading everyone!