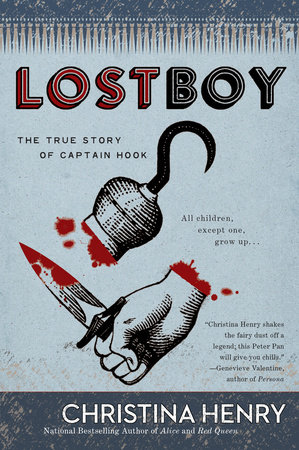 Review #73
Have you ever wondered what sparked the endless hostility between Peter Pan and Captain James Hook? What is Peter wasn't the happy-go-lucky boy that everyone loves and remembers? In this revisionist fairy tale, the world of Neverland is explored as never before, through the eyes of a boy named Jamie and his best friend, Peter.
J.M. Barrie's classic children's novel has remained popular for more than one hundred years. Since 1904 kids and adults have been captivated by the story of the boy who never grew up and instead had thousands of adventures with his troop of lost boys in the woods of Neverland. One of the many factors that have contributed to Peter Pan's enduring popularity is the ambiguity surrounding its main character. Peter has been depicted by both male and female actors. He has been the brave hero, rescuing his friends from the clutches of Captain Hook. He has been the coward who flees from responsibility in favor of his eternal games. My favorite adaptation, 2003's Peter Pan starring Jeremy Sumpter and Jason Isaacs, shows Peter as a boy on the brink of puberty who lacks the maturity to deal with adult emotions such as love and instead hides behind a false bravado.
In Christina Henry's re-imagining of the Neverland world, Peter is portrayed as an emotionally indifferent sociopath who lures boys away with promises of a life filled with fun and adventure. Countless years of fighting pirates, crocodiles, and the enigmatic creatures known as the Many-Eyed have left Peter twisted and morally decrepit. His lost boys exist only to admire and love Peter and to participate in the violent and dangerous games he invents. If the boys become sick, injured, or homesick for their former lives, Peter turns a blind eye to their suffering and often orchestrates for those boys to meet with some fatal "accident". His oldest and most loyal friend, Jamie, is the one who has shouldered the burden of caring for the lost boys and trying to keep them alive for as long as possible.
Henry's vision of Neverland differs wildly from the version we've seen in the past. Certain elements such as the fairies and the mermaids are barely recognizable from the original source material while other characters aren't present at all. This is a dark and dangerous Neverland that presents a daily struggle for survival. The rivalry and violence between the lost boys is often more reminiscent of The Lord of the Flies rather than the cheerful Disney characters we remember from childhood.
At under two-hundred pages, this is a relatively short novel. I honestly found myself wishing that I could have spent more time in Henry's version of Neverland. The climax in particular, felt rushed. Going in, we all know how Jamie's story is going to end, but getting there was a wild, exciting, and often sad journey. After all, all little boys grow up…except one. Never has that sentence sounded more sinister.
My rating: 4/5
You can find Lost Boy here on Amazon or here on Book Depository.
Happy reading everyone!