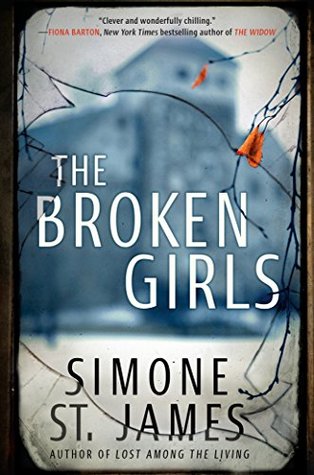 Review #90
Vermont, 1950 Idlewild Hall is where parents send daughters that have been deemed "lost causes". Whether illegitimate, inconvenient, or simply rebellious, girls find themselves dropped unceremoniously at Idlewild. Once there. four girls forge a tight bond of friendship until one of them vanishes without a trace.
Vermont, 2014 Twenty years after her older sister was found murdered on the now-abandoned grounds of Idlewild Hall, journalist Fiona Sheridan returns to her hometown in rural Vermont to cover the story of the school's restoration. Confronted with memories she has worked so hard to bury, Fiona becomes determined to uncover the mystery of her sister's death.
I've mentioned in previous posts that split-perspective narratives are difficult to do well because one of the narratives will almost always end up being more compelling. In The Broken Girls, the chapters set in 1950 move at a faster clip and have a stronger voice. Even though these chapters vary between the four girls who reside at Idlewild, they still manage to accomplish more character development than the chapters written from Fiona's point of view.
The problem is that Fiona spends an inordinate amount of time repeating herself about how broken up she is over her sister's death, and lamenting that she and her police-officer boyfriend may not be meant for one another. Not until the final seventy pages or so does Fiona's narrative begin to pick up momentum and by that point the tension has been lost.
The Broken Girls is billed as a paranormal suspense, but seems to be lacking in both paranormal and suspense. The "ghost" story is glaringly underutilized; at no point does the spirit of Idlewild present any kind of threat or intrigue.
Author Simone St. James does get points for her creepy, Gothic atmosphere. I could almost feel the chilly and crumbling halls of the neglected school. I also greatly enjoyed the way that St. James depicts life as a girl in 1950 as a prison. That the girls of Idlewild consistently rebel against the tight strictures imposed by the adults around them made me silently cheer for their victory.
My rating: 3/5
You can find The Broken Girls here on Amazon or here on Book Depository.
Happy reading everyone!