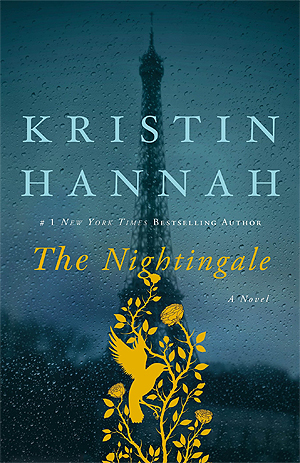 Review #82
Sisters Vianne and Isabelle Mauriac have a strained relationship. Isabelle feels that Vianne abandoned her to a series of convent school and a life of loneliness after the death of their mother. Vianne, still mourning a series of miscarriages, feels that Isabelle is reckless and never stops to think about how her actions may affects others. In a quiet French town in 1940, both sisters are put to the test as the Nazis edge ever closer to the French borders. Vianne believes that France will never fall, and is determined to quietly live and raise her daughter. Rebellious Isabelle longs for a chance to contribute to the war effort. The following years will test their bond, their morality, and their desire for survival.
Earlier this year I read and reviewed Kristin Hannah's The Great Alone, and immediately fell in love with her writing style and her focus on relationships and the importance of family. I had heard a lot of good things about The Nightingale and was eager to read another book by this author.
There are dozens of novels published every year that deal with World War II and its aftermath. The Nightingale earns its place in the upper echelons of the genre, but ultimately it has to compete with the likes of All the Light We Cannot See and The Boy in the Striped Pajamas, and sadly it falls a little short. There simply isn't anything new or surprising presented by this novel. It felt as if Kristin Hannah had a checklist of "Nazi Atrocities" that she was gradually ticked off as she wrote. The things endured by the Mauriac sisters somehow seem obligatory rather than organic.
The novel occasionally includes chapters that are set in the United States in the 1990's. One of the Mauriac sisters, now elderly and fragile, contemplates returning to France to confront her past and honor the sacrifices made. These chapters are utterly unnecessary and were obviously put there to lead up to a "twist" that lacked any sort of punch.
This novel has been so highly recommended by so many people that perhaps I went in with expectations that were impossible to fulfill. Ultimately, I enjoyed The Nightingale, but apparently not as much as others.
My rating: 3.5/5
You can find this novel here on Amazon or here on Book Depository.
Happy reading everyone!