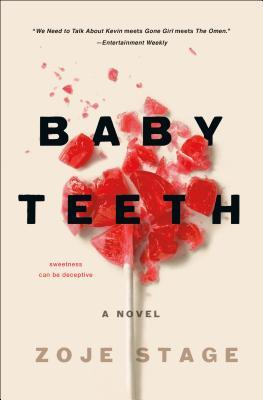 Review #89
What would you do if you found yourself unable to love your child? What if your child didn't love you?
Eight-year old Hanna is sweet and precocious for her father, even if she is unwilling to speak. But for her mother Suzette, Hanna is a manipulative and destructive child who seems hell-bent on destroying the relationship between her parents. As Suzette becomes increasingly strained by Hanna's behavior, Hanna's tricks become more sophisticated as she decides that she may have to remove her mother from the picture altogether.
I read a lot, and I mean a lot of horror novels, but this debut novel by author Zoje Stage scared the pants off me. The premise is entirely ridiculous and utterly silly but it's crafted within enough care to keep the level of suspense heightened until the very end.
The split narrative varies between mother and daughter so that the reader comes to sympathize with both characters. It would be easy to write off Hanna as a deranged child psychopath like Macaulay Culkin in The Good Son, but that would be too easy. Instead we can understand Hanna's skewed viewpoint and how she has somehow come to view her mother as the enemy. She is never depicted as a "demon child" so much as a confused and disturbed little girl. We can also understand how Suzette has reached a breaking point when it comes to parenting a increasingly difficult child.
There is a hint of Rosemary's Baby in Suzette's relationship with her husband. He is too often absent, and since Hanna puts on her best face for her Daddy, inclined to side with her. As the father, Alex is the least developed character and too often plays the role of biased mediator. There are many instances where he says that his wife is "over-reacting" and that there daughter is simply "under stimulated" at home. This is a fairly lazy plot device in 2018 when most parents are more involved in their children's upbringing.
This book is sure to be controversial with the mommy crowd, particularly the ending. As a currently childless woman, I found the ideas presented in Baby Teeth to be simultaneously disturbing and highly entertaining. It was certainly a compelling read from beginning to end.
My rating: 4/5
You can find Baby Teeth here on Amazon or here on Book Depository.
Happy reading everyone!