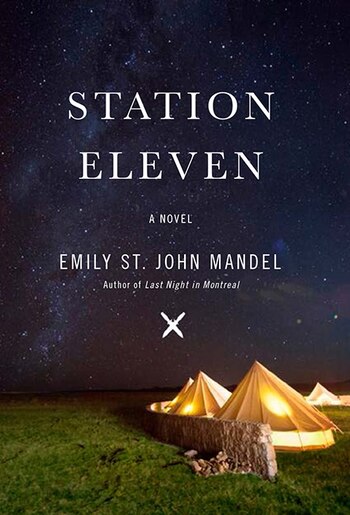 Review #102
One snowy night a famous Hollywood actor slumps over and dies onstage during a production of King Lear. Hours later, the world as we know it begins to dissolve. Moving back and forth in time—from the actor's early days as a film star to fifteen years in the future, when a theater troupe known as the Traveling Symphony roams the wasteland of what remains of North America.
Everyone loves a good post-apocalyptic novel! Station Eleven has been on my to-read list for over a year and I finally got a chance to read it after finishing my 100th book review last week.
The first thing I enjoyed about this novel was that Emily St. John Mandel has taken pains to ground her apocalypse firmly in the real world. This is not The Walking Dead where gasoline never goes bad and everyone has perfectly tweezed eyebrows. The merry troupe of the Traveling Symphony is unwashed and their horse-drawn caravan is worn. Young people are growing up hearing about extinct and mythic wonders such as electricity and internet.
The added element of the twisting, meandering timeline works well in Station Eleven, giving the scenes set in the past a dreamy, nostalgic feel. Since the main plot revolves around a character who dies in the first chapter, we view him from a multitude of perspectives. The people whose lives the actor touched weave together and interlock throughout the novel.
In a way, this was the most loving post-apocalyptic novel I've ever read. Not necessarily in the romantic sense, but in the way that Mandel paints such a sentimental portrait of everyday items. Characters often glance longingly at light switches, air conditioners, and iPhones and I found myself appreciating all the many small conveniences that my small apartment affords me.
Most end-of-the-world novels have some sort of all-powerful antagonist that has driven humanity to the brink of extinction. Nuclear weapons, zombies, aliens have all played this role in the past. Station Eleven felt very different because it lacked a primary villain. The closest thing to a looming threat would be a cult of religious fanatics lead by a power-hungry prophet, but even they lack any real sense of menace. Almost as if the events of Stephen King's The Stand had occurred without the dueling battling between Good and Evil. As if Randall Flagg had never walked the Earth and instead the lonely remnants of a barren new world live by one simple motivation. Survival is insufficient.
My rating: 4/5
You can find Station Eleven here on Amazon or here on Book Depository.
Happy reading everyone!