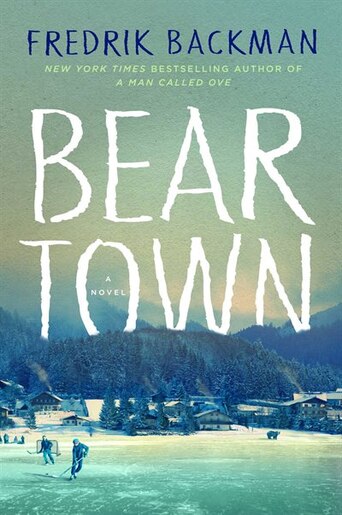 Review 2.5
People say Beartown is finished. A tiny community nestled deep in the forest, it is slowly losing ground to the ever encroaching trees. But down by the lake stands an old ice rink, built generations ago by the working men who founded this town. And in that ice rink is the reason people in Beartown believe tomorrow will be better than today. Their junior ice hockey team is about to compete in the national semi-finals, and they actually have a shot at winning. All the hopes and dreams of this place now rest on the shoulders of a handful of teenage boys. [Source]
Only someone who has played as part of a sports team can describe the seemingly psychic connection that exists between well-trained players working towards a common goal. A good coach can pull astounding results out of a talented player, but not without pain and sacrifice both mental and physical. Complete and total devotion is required if the unit as a whole is to succeed. The character traits born by playing sports: loyalty, determination, selflessness, and stamina can serve children well into adulthood. But there is a darker side to those sterling qualities: arrogance, recklessness, and a disregard for authority also breed when star players are told from a very early age that they are perfect and invincible. Beartown tells the story of one youth ice hockey team as they prepare for the semi-final championship and bear the entire weight of a community on their shoulders.
Beartown is a novel about the power of competitive sports to bring people together and to tear people apart. The introspective, omniscient language used by Fredrik Backman (translated here from Swedish by Neil Smith) is simultaneously haunting and joyful. We delight in the vitality and joy that the boys of the Beartown junior league find out on the ice, while never forgetting that those shining moments are few and fleeting. Backman manages to capture the almost addictive hold that these sports have, both on the players and the people in the community who place all their hopes on the slim shoulders of seventeen-year old boys. The pressure that these students are under would buckle the knees of most adult men, and game-day nears, the cracks begin to show.
Halfway into Beartown came an event that I definitely did not expect, but in retrospect I should have seen it coming a mile away. Another side effect of sports culture is the attitude instilled in the members of a winning team that they are entitled to whatever rewards they desire and that "winning" is something that must be obtained at all costs. This event sets off a series of repercussions that wind through the remaining half of the novel until building into a tight, page-turning conclusion that had me glued to the screen of my Kobo.
I loved that this was a novel about sports culture that didn't require me to know or care anything about ice hockey going in. It's a novel about sports that will appeal to people who don't like sports very much. And people who love the game. Probably because Beartown isn't about ice hockey. It's about teamwork. Friendship. Sacrifice. Loyalty. Honesty. Bravery. And a little bit ice hockey.
My rating: 5/5
You can find Beartown here on Amazon or here on Book Depository.