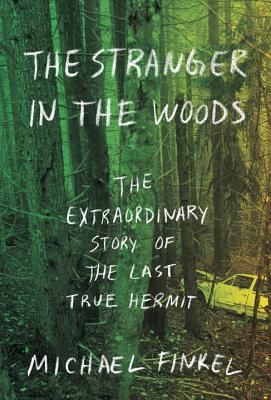 Review 2.9
Many people dream of escaping modern life, but most will never act on it. This is the remarkable true story of a man who lived alone in the woods of Maine for 27 years, making this dream a reality–not out of anger at the world, but simply because he preferred to live on his own. [Source]
Right from the title, something rings false about The Stranger in the Woods. Finkel (or his publisher) draws us in with the promise of the last "true hermit", and then spends a large amount of the book's length debating whether or not Christopher Knight was even technically a hermit at all.
This book was odd. I don't quite know how else to describe it. Author Michael Finkel doesn't seem to know exactly what point he is trying to make. The sections describing his interviews with Knight are juxtaposed with chapters detailing the history of hermits and the psychological need for human interaction. However, Knight's particular case is so unusual that he shares almost nothing in common with what we often think of as a hermit. Knight did not enter the forest seeking wisdom. He wasn't running from something or trying to hide from the government. He did not embark on a spiritual journey. There are really only two pieces of information that I took away from this book.
1. Knight was just a guy who wanted to be left alone.
2. He committed hundreds of burglaries in order to achieve that goal.
Those are essentially the only ideas that Finkel was able to convey in The Stranger in the Woods. Knight was not some noble hero; he stole every single thing that kept him alive during his decades in the forest. He made people feel insecure and ill-at-ease in their own homes. He said in court that he was deeply ashamed of his actions, but was he truly sorry for stealing or only sorry that he was finally caught? Finkel doesn't explore any of those questions, and instead adopts an almost fanboy-esque attitude towards Knight.
One of my goals this year was to read more nonfiction, but it wasn't until The Stranger in the Woods that I fully understood how important a role the author plays in this kind of narrative. As readers, we need to be able to trust Finkel and his motivations in order to accept his version of events as the truth. Finkel, who was fired from the New York Times in 2002 for false reporting, does not inspire that kind of trust. But even before I knew about the NYT incident, something felt off about Finkel and his attitude towards Christopher Knight.
Finkel becomes increasingly stalkerish as The Stranger in the Woods progresses. He shows up announced and uninvited to visit Knight in jail. He shows up unannounced and uninvited at Knight's family home. He refuses to listen to Knight's frequent pleas to "stay away" and "leave me alone". During the course of his time spent with Knight, Finkel traveled through the dense Maine woods no fewer than eight times in order to visit Knight's "camp", spending the night on several occasions in a kind of pilgrimage. He asks psychiatrists who have never met or heard of Christopher Knight to talk about whether or not Knight might be autistic. It all adds up to a narrator who is unreliable, unprofessional, and potentially unethical. I felt a cringy, awkward sort of empathy for Knight as Finkel refused to leave him alone. After all, that's all Knight ever wanted in the first place.
My rating: 2/5
You can find The Stranger in the Woods here on Amazon or here on Book Depository. The Audible version is narrated by Mark Bramhall and can be found here.
Happy reading everyone!