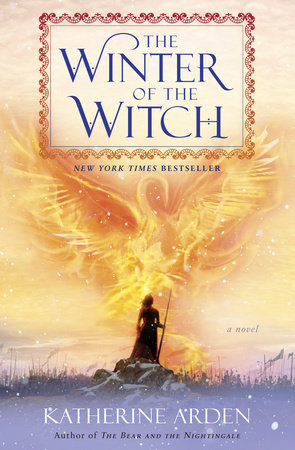 Review 2.11
Note: I highly recommend reading The Bear and the Nightingale and The Girl in the Tower before reading this review.
Following their adventures in The Bear and the Nightingale and The Girl in the Tower, Vasya and Morozko return in this stunning conclusion to the bestselling Winternight Trilogy, battling enemies mortal and magical to save both Russias, the seen and the unseen. [Source]
The Winter of the Witch has all of the ingredients necessarily for a dark, mature fairy tale. There is a twisted villain, a mysterious king, an enchanted forest. There are swordfights, helpful sprites, and magic horses. Front and center of it all is the courageous heroine, Vasilisa Petrovna. Vasya is a marvel, at once vulnerable and indomitable. Her journey from a scared girl in the snow to a crusading warrior-witch has made the Winternight trilogy one of my favorite finds in recent years.
Of course, all these elements would amount to nothing without the beautiful and poetic writing of Katherine Arden. She has constructed a world that feels simultaneously ancient and immediate. The best fairy tales exist in a world of misty morals, and The Winter of the Witch is no exception. No one, no matter how seemingly good or evil, is ever quite what they seem. This comes as a natural development rather than a sudden cheat, and I never felt as though Arden had sacrificed her characters for the sake of a easy ending.
After the climatic events of The Girl in the Tower, Vasya has just risked everything to save Moscow from the flames. Her secrets are now exposed, and the obsessed priest Konstantin has her cornered. After suffering a devastating loss, she flees into the realm of Midnight, a land of eternal darkness. Weakened and grieving, Vasya must search the midnight lands for Morozko, the king of winter.
I won't say anything more, for fear of spoiling the surprise. I am definitely looking forward to buying the entire Winternight trilogy on hardcover once it's released. These books swept me away.
My rating: 5/5
You can find The Winter of the Witch here on Amazon or here on Book Depository.