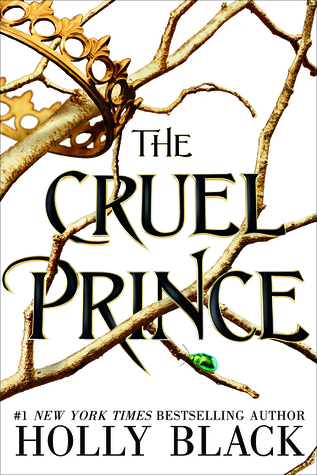 Review 2.22
Jude was seven when her parents were murdered and she and her two sisters were stolen away to live in the treacherous High Court of Faerie. Ten years later, Jude wants nothing more than to belong there, despite her mortality. But many of the fey despise humans. Especially Prince Cardan, the youngest and wickedest son of the High King.
To win a place at the Court, she must defy him–and face the consequences.
As Jude becomes more deeply embroiled in palace intrigues and deceptions, she discovers her own capacity for trickery and bloodshed. But as betrayal threatens to drown the Courts of Faerie in violence, Jude will need to risk her life in a dangerous alliance to save her sisters, and Faerie itself. [Source]
I first heard about Holly Black's The Cruel Prince last year, and had been meaning to check it out for ages, but wanted to finish Sarah J. Maas' Throne of Glass series before embarking on another journey into YA fantasy. I'm really glad I finally got around to reading it; I was almost surprised by how much I liked this novel. It manages to avoid a lot of the more glaring tropes that have become disappointingly commonplace in YA fantasy.
The Cruel Prince immediately pulls away from the cluttered pack with its heroine. Jude is a mortal who has grown up in constant fear and danger; she dreams of becoming a knight in order to gain a stable position in the Faerie court. The best thing, she isn't an archer. I am so tired of women being assigned the bow again and again as their weapon of choice; it's become a tired and overused cliche. But Jude fights with sword, dagger, and crossbow. And poison. And subterfuge. She never stoops quite low enough to enter "antihero" territory, and her motives are generally honorable, but her actions are decidedly less so, which made for a refreshing change of pace.
The world of the Fae has been described in detail by countless authors, and the immortal lands are limited only by the creative limits of the writer. Is it a dreadful and haunted land of twisted and depraved individuals, like in Peadar O'Guilin's The Call? Or is it an eternal land of beauty and impossibly gorgeous men, like A Court of Thrones and Roses? Holly Black has taken aspects from both interpretations; her Faerie Court is beautiful and deadly, where immortals live a life of luxury but humans are often bewitched and enslaved. It is also filled with one of the most diverse group of Faeries I can recall. Their skin is in every shade from cerulean to sienna; they have horns or tails or goat's hooves in place of feet. I particularly liked the figure of Jude's stepmother, whose cold demeanor covers hidden secrets.
I also enjoyed that Black stayed away from yet another overused cliche; Jude is not motivated by romantic love. She isn't pining after a lost love, or sacrificing herself to save a lover. She also is not driven by any kind of familial duty. Her relationship with her sisters is largely unexplored, something I hope is remedied in the recently released sequel.
Jude is motivated purely by ambition.
She wants to become a knight simply because she wants to be acknowledged as the best. She has been powerless her entire life, and when the opportunity for power presents itself, she seizes it without hesitation.
Ambition is a heady thing, and I will be interested to see where Jude's ambition leads her.
My rating: 4.5/5
You can find The Cruel Prince here on Amazon or here on Book Depository.
Happy reading everyone!