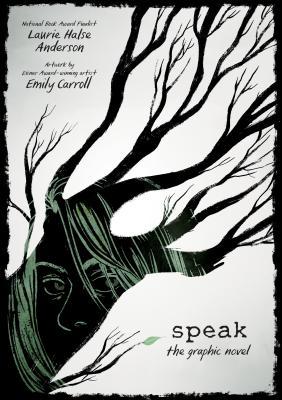 Review 2.8
"Speak up for yourself-we want to know what you have to say." 
From the first moment of her freshman year at Merryweather High, Melinda knows this is a big fat lie, part of the nonsense of high school. She is friendless–an outcast–because she busted an end-of-summer party by calling the cops, so now nobody will talk to her, let alone listen to her. Through her work on an art project, she is finally able to face what really happened that night: She was raped by an upperclassman, a guy who still attends Merryweather and is still a threat to her. [Source]
Apparently I live under a rock, because I had never heard of Laurie Halse Anderon's award winning 1999 novel, Speak. It only came to my attention when I learned that Emily Carroll had done the illustrations for the graphic novel edition of the book, which was released last year. Carroll wrote and illustrated the fantastically creepy Through the Woods, which was among the favorite books that I read last year. I immediately ordered a copy from my library and brought it home.
It sat on my desk for six weeks.
I could never bring myself to actually begin reading Speak. I knew it was going to be one of those books that left me feeling wrung out and exhausted, and I just couldn't commit myself. A few days before the book had to be returned to the library, I finally decided to make myself a giant cup of hot chocolate, top it off with a dash of brandy, and curl up on my couch to finish the book.
I'm so glad I did.
I haven't read the original source material, but Anderson's writing style adapts itself perfectly to the graphic novel format. Her narrative has a lyrical, almost poetic quality; it bounces from subject to subject in a continual train of thought that carries us into Melinda's mind. The mind of the average high school girl is a swirling maze of pressure and anxiety: pressure to fit in, to get good grades, to be popular to have boys like you, pressure from parents, from peers, from boys. Melinda, who is dealing with more anxiety and pressure than any ninth grader should ever have to experience, is teetering on the knife's edge between crippling depression and debilitating stress. Her experiences are as tragic as they are tragically ordinary, and Melinda's journey to find her voice is a powerful one.
Emily Carroll is a tremendously talented artist, and her illustrations heighten and define Melinda's experiences in so many ways. Notice the way Melinda is nearly always depicted with her hair covering part of her face as she seeks to hide from staring eyes. Or how certain characters are drawn with horribly exaggerated features. Carroll has a tendency towards the macabre that I love, and it suits the dark material presented in Speak.
I put off reading this book because I thought it was going to leave me feeling bitter and upset. Instead, I found Speak to be empowering. As Melinda journeys out of the darkness and finds her voice, there were a series of small victories. A new friend. A helping hand. A sympathetic teacher. Small reminders that a person is never really alone. I'll take this as a reminder that the most difficult stories to read are often the most important to tell.
My rating: 4.5/5
You can find Speak: The Graphic Novel here on Amazon or here on Book Depository.
Happy reading everyone!