Welcome to one of my very favorite segments, Book vs Film. Today we're looking at the 1976 novel, Interview with the Vampire versus its 1994 film counterpoint, starring Brad Pitt and Tom Cruise.
Warning: Spoilers for a fifty-year old book and twenty-five year old film. I'm not gonna feel too bad on this one.
1) I had no idea the book was that old until I started writing this article, but now I can totally see it. There's a timelessness to Rice's Gothic prose that takes it out of the present day. She also has a penchant for long, descriptive paragraphs that might put off younger readers accustomed to the snappy pace of today's paranormal novels. But once you sink in to her stories, they sweep you away.
2) Brad Pitt was a great casting choice as Louis. With his long, sexy hair, eerie green eyes, and mouth made for pouting, he was the definition of the hot vampire long before Edward Cullen came along.
In the immortal battle of Can My Face Show Emotion, Brad Pitt wins hands down.
3) I hate Tom Cruise as Lestat. He failed to capture the combination of mischief and anguish that drives the character, and instead just kind of…yells about stuff for awhile and then offers a few moments of fright before "dying". The movie gets better once he's gone, which is too bad because he's actually a very interestingcharacter. Tom Cruise just sucks, and he isn't nearly as cute as he thinks he is.
All Rights Reserved, Warner Brothers Studio 1994
4) I read this book for the first time when I was in my early teens, and it sparked a lifelong love of New Orleans. The film doesn't do this justice, as it relies too much on elaborate sets and CGI backdrops. I wanted to feel the music, the culture, the energy of the city, but it just looked like a standard period drama that could have been set anywhere.
5) Still, the film looks amazing. Director Neil Jordan, whose IMDB is surprisingly lackluster, created a rich, visceral canvas. The wardrobe is lavish, as is the makeup. And while he might not have focused on NOLA as much as I would have liked, the set design as a whole is spectacular, especially the Theatre des Vampyres.
All Rights Reserved, Warner Brothers Studio 1994
6) Like I said before, Anne Rice made vampires sexy long before Stephenie Meyers turned them into Mormon propaganda. But Rice  did it in such a strange way that it isn't really erotica. There aren't any vivid descriptions of sex, and it's insinuated that the vampires "discard" their genitalia when they transition from being human. Instead, the novel is permeated by a heady sensuality, much of which is homosexual. The main relationships between Louis and Lestat and Louis and Armand are never romantic by definition, but the novel practically teems with sexual tension.
*Note: If you're in the market for paranormal erotica, check out The Claiming of Sleeping Beauty series, written under Anne Rice's penname of A.N. Roquelaure. But be ready for some crazy shit.
7) The film made the wise move of toning down that sexual tension when it came to the relationship between Louis and Claudia. Claudia, played by Kirsten Dunst when she was eleven years old, was meant to be only five or six in the books. She was always one of my favorite characters, and her story is so tragic and haunting that I still wish Rice would give her a follow up book. And again, vampires in Rice's universe aren't "sexual" in any real way. However, a person with the appearance of a kindergartener referrring an adult man as her "lover" was always weird, and the film works better with Brad Pitt as more of a Father/Companion/Jailer figure.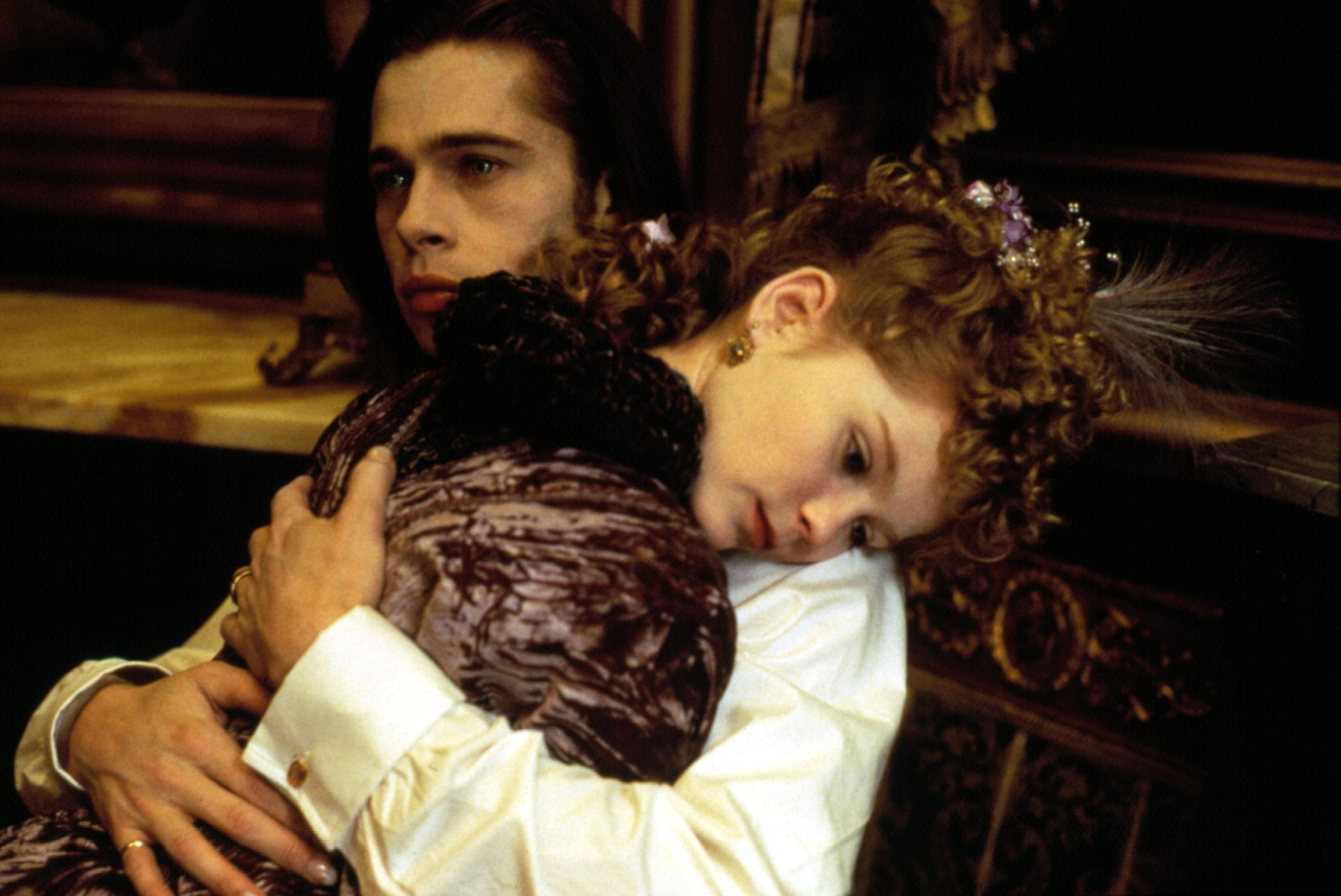 All Rights Reserved, Warner Brothers Studio 1994
8) The film also doesn't spend nearly as much time reflecting on the "nature" of vampires. The books contains a lot of monologuing by Louis as he tries to understand the nature of good and evil, of God and the devil, in a world where monsters such as himself are allowed to exist. This is all very interesting, but there are times when you want to tell him to just shut up and get on with the story. Jones cut out a lot of Louis' philophizing, which makes for a more tightly paced film.
9) But the whole River Phoenix narration thing still doesn't work. It was annoying in the books, and it was utterly superfluous in the film.
10) Instead, they should have shown Louis and Claudia's trip to Eastern Europe. One of Rice's main themes was the juxtaposition of the "old" vampires, the ones that lived in crypts and practiced dying rituals, versus the "new" vampires that lived in mansions and walked among the people as one of them. This idea is never really explored, which is a shame.
11) Antonio Banderas is…not the best thing about the movie. His accent is weird, and he's trying too hard to play vampire. But damn if his hair isn't better than mine. Everyone in this universe has better hair than me. Cause vampires may have changed a lot since this book came out in '76, but some things never changed. We like hot vampires better than creepy ones.
I'll give you my blood in exchange for your hair-care regime.
12) I always hated the ending of the book, which more or less mirrors the end of the fim. It just…stops. There is no real conclusion, unless you continue reading Rice's books.
Overall, its a solid book-to-film adaptation. Jordan and his cast remain true to the spirit of Rice's books while amending some of the squiffier aspects. I highly recommend the next two books in Rice's Vampire Chronicles series, The Vampire Lestat and Queen of the Damned. QOTD in particular is wonderful, kind of like the vampire Avengers, and addresses the vampire mythos in a unique and interesting way. But stop there. Everything from Tale of the Body Thief onward is just fluff.
I would also advise film-lovers to avoid 2002's Queen of the Damned, staring Aaliyah and Stuart Townsend. It's bad. Just…really bad.
Really, really bad.
Happy reading and watching everyone!
Did I get it totally wrong? Let me know what you think in the comments section below!
And check out more of our book vs film reviews!!
The Guernsey Literary and Potato Peel Pie Society