I absolutely love camping. Every year I await the chance to get away from all the noise and crowds of the city and just drive into the middle of nowhere for a week. My husband and I are avid campers who are both from "indoor" families. Growing up, my mother's idea of camping would have been a night at the Motel 8. I think part of that may have been because we already lived in the country, where open space, fresh air, and solitude were readily available. As much as I adore living in the Toronto area, I feel more at home in the country.
My husband and I generally go camping rather early in the season, around the end of June. This means that the temperatures average in the low twenties (70*F). For comparison, today it was 33* (93*F) in my Midwestern hometown.  There are numerous benefits to camping at the start of summer in Canada. First of all, schools are still in session so we don't have to deal with hoards of families crowding the area. We're both teachers, so our vacations generally mean trying to avoid small children as much as possible. Also, the insects haven't had the chance to truly come out in force. And my remarkably Day-Glo pale skin has a better chance of avoiding a blistering sunburn. There are a myriad of benefits to camping in cool weather.
Nevertheless, it does have its drawbacks, mainly in that it isn't exactly bathing suit season yet. This year we are headed to the Bruce Peninsula, near Lake Huron. If you've ever wondered how Jack Dawson felt when he went into the waters with the Titanic, take a quick dip in Lake Huron in June. Due to the cooler temperatures, recreational swimming isn't really an option. Instead, we spend our time kayaking, naming the squirrels that invade our campsite, drinking beer, and reading.
The reading is what has most likely brought you to this post. As I would hate to become one of those horrid cooking blogs which feel the need to bore you with two thousand words of personal nonsense before giving you what you came for, let's get to the books!
I've put together a list of ten books that would be perfect for reading around a campfire or while relaxing in a tent on a rainy day. The first five are all horror novels, because being scared in the woods is fun for everyone. The next five are more family-friendly, in case you don't want your children waking up at three in the morning because a stick cracked in the darkness and they're certain it was a beast from the depths of hell.
1) The Girl Who Loved Tom Gordon by Stephen King
Nine year old Trisha is separated from her family while hiking in the woods of northern New England. Lost for days, dehydrated and scared, Trisha relies on her small radio for solace, tuning into the Boston Red Sox and her hero, pitcher Tom Gordon. But hunger and insects aren't Trisha's only problems. Something is stalking the small girl as she wanders through the forest. Something hungry and unnatural.
No list of horror novels is complete without at least one addition from Stephen King . This book is short (for King), atmospheric, and draws on the readers' fear of the small noises that seem huge when you're alone in the dark woods.
How To Stay Alive in the Woods: Keep on the path!
2) The Ritual by Adam Nevill
A group of four middle-aged men reunite for a hiking trip in the wilds of northern Sweden. When they attempt to take a shortcut through a patch of untouched forest, they find more than they bargained for.
This novel was on my list of favorite books that I read last year. It is a masterpiece of suspense and dread as the four men realize that their formerly fit bodies are beginning to betray them, and they are unable to outrun that which is hunting them.
How To Stay Alive in the Woods: If you see a creepy cabin in the middle of the woods, keep walking!
3) The Ruins by Scott Smith
Hoping to find a lost friend in the jungles of Mexico, four friends stumble upon an ancient ruin and a creeping horror instead. As they become increasingly hungry and panicked, paranoia and hysteria begin to set in.
This novel is also a really great horror film by the same name. It is a creepy combination of psychological and physical horror. What is more dangerous, the jungle or each other?
How To Stay Alive in the Woods: Don't touch unidentified plants! 
4) Through the Woods by Emily Carroll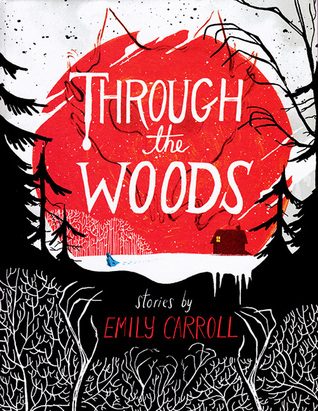 Five short stories centered around the woods and the horrors within, combined with truly disturbing illustrations.
I wrote a review for this graphic novel just a few weeks ago, and I still can't get it out of my head. The haunting prose and unsettling drawings come together to create a really creepy reading experience.
How To Stay Alive in the Woods: Curiosity killed the camper!
5) Scary Stories to Tell in the Dark by Alvin Schwartz
A collection of short folktakes from around the world. This is still a favorite with older and braver children, and continues to send shivers up the spine of many an adult. Make sure you get an edition with the original artwork by Stephen Gammell, as they are an integral part of this reading experience!
How To Stay Alive in the Woods: Close your eyes and hope for the best.
6) A Walk in the Woods by Bill Bryson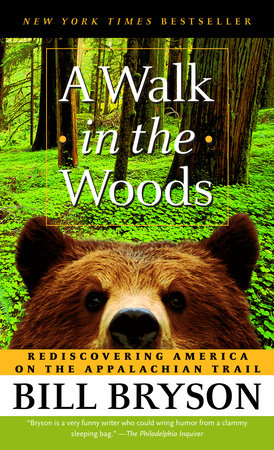 The Appalachian Trail stretches from Georgia to Maine, and is a bucket-list item for any avid hiker. Bill Bryson is not an avid hiker, yet he and an equally unfit companion set off to complete the AT in the course of one summer. Bryson details the ecology and history of the area as well as his encounters with the local people and wildlife.
Not so long ago, the Appalachian Trail was a relatively unknown area of the United States, favored only by experienced backpackers and campers. From what I hear, it is now overridden by idiot hipsters who think a hiking GPS makes them an expert. This book is a fun expedition through the woods from someone who knows the does not belong there.
How To Stay Alive in the Woods: A sense of humor is essential.
7) Hatchet by Gary Paulson
This ever-popular children's novella centers on a boy named Brian who finds himself stranded in the wilderness of Northern Canada after his bush-plane crashes. Armed with only a small hatchet, Brian must find a way to survive until he can be rescued.
Hatchet has been a hit with people of all ages for more than thirty years because we as readers identify so strongly with Brian. His early cluelessness and mistakes are the results of a boy growing up away from nature, as so many of us do. This would be a fun novel to read with children.
How To Stay Alive in the Woods: Never give up.
8) The Call of the Wild by Jack London
Buck the dog is kidnapped from his easygoing life in Santa Clara and forced into work as a sled dog in the unforgiving winter of the Yukon. Faced with constant danger from the climate, the wildlife, and the cruelty of both his fellow dogs and man, Buck must struggle to survive and reclaim his position as master.
Another book that is very popular with young readers, The Call of the Wild is an enduring story of survival and spirit. Because the main character is a dog, he is easy to root for and we celebrate Buck's victories as much as we weep for his setbacks.
How To Stay Alive in the Woods: Be kind to animals.
9) Little House in the Big Woods by Laura Ingalls Wilder
Laura Ingalls and her family live in a small wood cabin in the forests of Wisconsin in the mid 18th century. This book describes the struggle and successes of the Ingalls family as they work hard to make a life for themselves in a harsh and unforgiving environment.
Eternally beloved author Laura Ingalls Wilder as captured the imaginations of generations of children with her Little House books. They are a good reminder of how much the world has changed, and yet how many things remain the same.
How To Stay Alive in the Woods: Your family is there to love and protect you.
10) The Bear and the Nightingale by Katherine Arden
In the dense forests of medieval Russia, a small village is buried in snow for eight months out of the year. Vasilisa Petrovna grows up wild in the woods, giving offerings to the various sprites and spirits that inhabit the wilderness. When a Catholic priest begins to interfere with village life, Vasilisa must make a choice that will affect her entire future.
I reviewed this novel earlier in the year and I absolutely adored it. A dark fairy tale with religious undertones, The Bear and the Nightingale features a wonderful protagonist who never behaves quite as expected.
How To Stay Alive in the Woods: When in doubt, trust your instincts.
Well there you have it, folks! I hope that you enjoy some of these books on your next venture into the forests. Whether you are looking for a scare or for more tame entertainment, you can't go wrong with a good book! I'll be on hiatus next week while I am on a camping trip. I hope to return with more recommendations for our readers who love the woods.
Happy reading everyone!