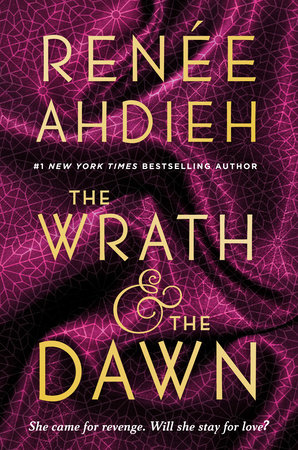 Review #64
Every night the boy-king of Khorasan receives a new bride. They are married, often without setting eyes on one another. The new wife is then escorted to her rooms. In the morning, she is dragged from her room and strangled with a silk code. Nearly seventy girls have died so far. Sixteen year old Sharhzad volunteers to be the next victim for this monstrous Caliph, but she has a secret. Her dearest friend was one his murdered wives, and Sharhzad is out for vengeance. Not only does she not intend to die at the break of dawn, but she plans to end this cycle of violence once and for all.
This is a re-imagining of the tale of Scheherazade from One Thousand and One Nights. This collection of Middle Eastern folklore is from unknown origins and contains the popular legends of Aladdin, Ali Baba, and Sinbad. The beginning chapters of The Wrath and the Dawn follow the legend of Scheherazade pretty closely. Every night the Caliph (King) visits his new wife, intending to have her executed at dawn. And every night Sharhzad spins out a little more of a story, being sure to reach a climax or an interesting twist just as the sun breaches the windows of her bedroom. Hoping to hear more of the story, the evil king allows her to live another day.
Author Renee Ahdieh draws a sumptuous portrait of life in ancient Arabia. Sharhzad's life in the royal palace is filled with colorful silks, rich damask, and tables laid with fresh fruits and cheeses. Conspicuously absent from the narrative is the inherent sexism of the culture during this time period, allowing her protagonist a level of freedom and expression that would almost certainly not have been tolerated from a woman. Sharhzad is a strong, outspoken woman who never hesitates to speak her mind. From the onset of the novel, her every fiber is focused on wreaking vengeance upon the man who stole her friend from her. She is determined to survive at all costs.
Until all of a sudden she is magically transformed into a lovelorn girl. This metamorphosis comes out of nowhere, and doesn't seem rooted in logic. Sharhzad begins to fall in love with the Caliph for reasons that are never fully explained. He has murdered dozens of women but by the end of day three her heart is fluttering? It seems to be a case of a character performing an action simply because it is needed to further the plot. This is meant to be a love story, therefore Sharhzad must fall in love whether or not it fits in with everything we know about her so far.
Ahdieh attempts to soften the king by allowing him to open up to his new queen, sharing stories of his early life and giving him opportunities to defend her honor and whatnot. There is also a mystery surrounding his decision to kill all of these innocent women, which we are led to believe will absolve the king of responsibility for his actions.  But the bodies of seventy dead women cannot be denied, and Sharhzad's sudden and inexplicable decision to throw her lot in with a man who has allowed these acts of violence rings false.
Somehow, despite my objections to the love story presented in this novel, I found myself drawn into the story of Sharhzad as she struggles between the pulling of her heart and the revenge in her mind. And when I finished The Wrath and the Dawn, I immediately put the sequel, The Rose and the Dagger, on a wait list at my local library. So kudos to the writing style of Renee Ahdieh, for drawing me into this story almost in spite of myself.
My rating: 3.5/5
You can find The Wrath and the Dawn here on Amazon or here on Book Depository.
Side-note: I've never actually read One Thousand and One Nights. How does it compare?