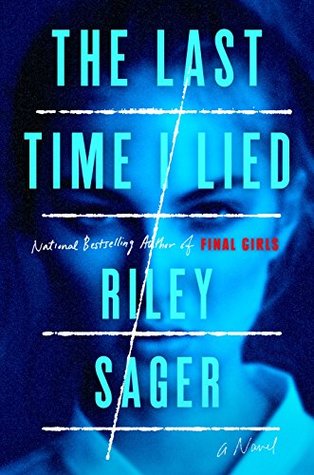 Review #76
Thirteen year old Emma Davis is beyond excited to be a camper at the exclusive Camp Nightingale in upstate New York. She immediately becomes enamored with Vivan, Allison, and Natalie, her three older bunkmates who take Emma under their wing and treat her like a little sister. Vivian's favorite game is Two Truths and a Lie, and the girls spend their nights playing. It all ends one night when Emma awakens to find that her new friends have vanished without a trace.
Fifteen years later, Emma is a rising star in the art scene. She is haunted by the memories of the missing girls, and finds herself painting them and them covering them up over and over. Her work eventually catches the notice of Franny Harris-Smith, the former owner of Camp Nightingale. The camp is re-opening, and Franny offers Emma a job teaching art to a new group of girls. Emma agrees and returns to Camp Nightingale in the hopes of finally solving the mystery of the missing girls and ridding herself of the ghosts and guilt of the past.
This novel is an entry in the increasingly popular genre that I like to call the "predictably unpredictable thriller". These novels have become more and more prevalent following the runaway success of Gone Girl and include such entries as The Girl on the Train and The Woman in Cabin 10. Things to look for in the predictably unpredictable thriller include a deliberately enigmatic plot that seeks to squeeze every possible drop of mystery out of its storyline before finally revealing its secrets. Expect clunky and unhelpful foreshadowing. The reveal itself will unwind in about fifteen stages, and will contain just enough logic that it cannot be considered a cheat. The final ten or so pages will typically include one final twist that leaves everything that came before open to interpretation. Like the Halloween films, these novels can't be satisfied without one final scare, no matter how unnecessary.
Honestly, that about sums up everything you need to know about The Last Time I Lied. None of the characters are particularly interesting because they only exist to say ominous things and drop hints that more often than not turn out to be red herrings.
So far it sounds as if I hated this novel, but that isn't necessarily the case. Riley Sager is a competent author and the overall storyline was compelling enough that I finished the book in two days. It's more that I find the psychological thriller genre as a whole to have jumped the shark. Instead of a series of events which serve to unravel a mystery that makes sense when viewed as a whole, it's becoming more and more common to cram in as many twists and turns as possible. The problem is that too often those twists and turns come at the expense of a cohesive plot.
My rating: 3/5
You can find The Last Time I Lied here on Amazon or here on Book Depository.
Happy reading everyone!