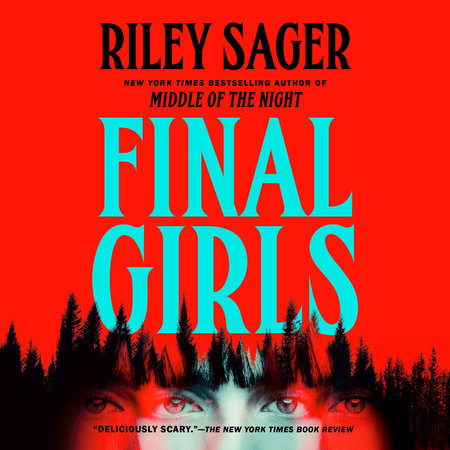 Review #95
Ten years ago, Quincy Carpenter and a group of fellow college students ventured into the Pennsylvania woods for a party weekend at an isolated cabin. Forty-eight hours later, Quincy stumbled out of the forest, covered in blood and screaming that her friends had all been murdered. She was the sole survivor.
Now, Quincy has a loving fiance and a successful baking blog. She feels that she has finally managed to shed the image of the "final girl" that the media tried so hard to pin on her. But when a fellow survivor turns up dead and another appears on her doorstep, Quincy finds herself reliving the painful memories she has worked so hard to forget.
I reviewed another of author Riley Sager's works earlier for this website, and thought that he relied too heavily on unnecessary plot twists and clumsy foreshadowing. For the bulk of Final Girls, Sager manages to avoid the ridiculous plot twists and focuses on a more character-driven story. Quinn is a relatively sympathetic character, although she does ramble on a bit too heavily about the same three subjects: Xanax, baking, and her fiance. I much preferred the enigmatic Sam Boyd, a fellow "Final Girl" who shows up at Quinn's home and immediately makes herself at home. In my mind, she was Eliza Dushku's character Faith from Buffy. We want to like her, but we are never sure whether or not we can trust her.
Sager's use of flashbacks continues to be a thorn in my side. The sections that take place in 1989 are utterly useless. They do nothing to advance the overall plot, and they are far too short and deliberately vague to make us care for the fate of Quinn's doomed friends. Just as in The Last Time I Lied, these sections felt clunky and heavy-handed. Sager relies too much on continuously stating "that one terrible thing that happened", as if by repeating himself it will serve to drum up an atmosphere of suspense. Instead it just began to feel tedious.
I think I'm going to start avoiding the "popular" thrillers that crop up like daisies every year. Obviously there are a great deal of people who love them, or they would not constantly be popping on on my radar. However, I seem to forget that these novels are nearly always going to rely on the cliched tropes and nonsensical plot twist endings that have come to define the modern interpretation of the genre. I am tired of finding myself perpetually disappointed.
The ending for Final Girls in particular, was utterly ridiculous.
My rating: 2.5/5
You can find Final Girls here on Amazon or here on Book Depository.