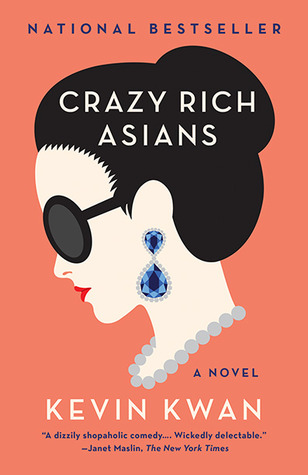 Review 2.30
I've been putting off writing this review for ages, because I can't think of the best way to describe Kevin Kwan's debut bestseller, Crazy Rich Asians. There's been a ton of hype around this book since it was released in 2013, and it's already been adapted into a film starring Constance Wu and Henry Golding.
So what can I say that hasn't been said by a thousand readers and reviewers before me? Not much really. But I can say it again, and in slightly different words. What fun!
Speaking of fun, Crazy Rich Asians was a runaway bestseller for a reason; it's pure unadulterated escapist fun. Instead of trying to avoid all of the cliches associated with the "chick-lit"* genre, it revels in them. At one point, a character literally pulls out an unlimited AmEx card and utters the words, "This is a fashion emergency!" (or some paraphrase thereof).
Crazy Rich Asians is shamelessly capitalist, and I spent the entire novel in a weird swirl of awe and envy that was nonetheless highly enjoyable. The name-dropping and label-obsession went completely over my head most of the time, but it was certainly an education  For example, I had no idea that "Hermes-orange" was its own color.
The thing that really sets this book apart from the myriads of forgettable chick-lit is that it is also opened my eyes to a culture I previously didn't know much about and will, in all likelihood, never experience. I imagine this novel will do wonders for the Singaporean tourist industry, already a huge part of their economy. Personally, the numerous descriptions of delicious Hokkien street food were enough to have me poking into flights.
The central plot of Crazy Rich Asians is breathless, exciting, silly, and self-indulgent. The central character, Rachel Wu, isn't terribly interesting at all and serves mainly as our introduction to this world of extravagant wealth. The bustling, busying, nosying, prying members of the Young family are the highlight of the book, and rarely have I enjoyed soap-opera-esque plot developments so much.
I loved spending time in Kevin Kwan's world of extreme opulence and backstabbing family members. I also feel like I learned a lot about a culture completely different from my own, which is always a good time.
My rating: 5/5
You can find Crazy Rich Asians here on Amazon or here on Book Depository.
** Personally, I find this term odious but it is a highly-effective description of the genre.