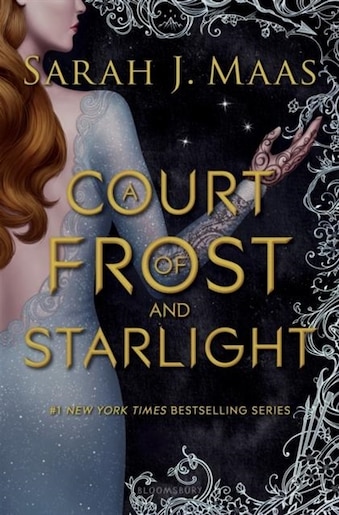 Review #55
Warning: Contains mild spoilers for Sarah J. Maas' A Court of Thorns and Roses (ACOTAR) series
Still reeling from the violent events of A Court of Wings and Ruin, Feyre, Rhysand, and their friends are looking to recover and rebuild the Night Court. As the Winter Solstice approaches, Feyre is attempting to navigate her first major festival as High Lady. Despite the festivities, the scars are still apparent both on her and the citizens of Velaris.
I am a huge fan of Sarah J. Maas. I've read all the installments of ACOTAR as well as her wildly popular Throne of Glass series. Her novels are pure escapist fantasy, blending romance with action in a wonderfully imagined world of magic and beauty. There are a few glaringly obvious flaws in her writing style (I began a tally of the amount of times she uses the phrase "vulgar gesture" and the word "prick"), but I have always found myself transported wholly into the world of Prythian.
I mentioned in an earlier post that the fairies of ancient folklore have been largely stripped of their malevolent power. This series was foremost in my mind when I made that comment. The High Fae of Maas' novels are magical, powerful immortals who reign more or less benevolently within their own realms, having little or nothing to do with the mortals who live outside their territory. These are the "sexy" fairies as opposed to the devilish tricksters depicted in mythology.
Maas does run the risk of giving her characters what I refer to as "Superman" syndrome. Superman is the most boring of all the superheroes because he is without flaw. For literary examples, one could look towards Edward Cullen of Twilight, or Christian Gray of Fifty Shades. One could say the same about Rhysand. He is handsome, chivalrous, generous, and treats Feyre as a true equal. Not to mention he's rich. And apparently quite well-endowed. But as I said before, this is all meant as escapist fantasy for young women which wouldn't be nearly as fun without some deliriously unattainable example of the male form.
I have yet to actually say anything about the plot, but that would be because there simply isn't much to say. A Court of Frost and Starlight is meant to act as a stopping point on the way to the continuation of the ACOTAR series. At only a little over two hundred pages, it is much shorter than most of Maas' novels, and does little to advance the overall plot of the series. At some point it began feeling like one of the Direct-to-Video Christmas stories that Disney releases in order to maintain interest in their popular franchises until the next major film is ready to be released. They tell a self-contained story that does not affect the larger story, and therefore can be either enjoyed or ignored without fear of missing something.
For what it is, the central plot revolves around Feyre and her friend's preparing for the Winter Solstice, a festival that involves much merrymaking and gift-giving. Maas makes an attempt to liven affairs up by giving her readers a few different perspectives. The bulk of the narrative continues to be from Feyre's perspective, but we are also treated to chapters from the point-of-views of Rhys, Cassian, Morrigan, and (briefly) Nesta. After three novels of Feyre constantly comparing every single thing to a painting she would like to create, I was eager to branch off into the mind's of a few other key characters. Unfortunately, these alternate narratives are used so sparingly that they seem more like a tease than anything else. We get maybe four chapters with Rhys, three with Cassian, and only two with Morrigan. I'm hoping that the next installment of ACOTAR expands upon this idea though. To be honest, Feyre is becoming a bit dull. She only ever talks about theoretical artwork. Or about how much she loves Rhysand. And let's not forget more half-assed allusions to painting.
Overall, A Court of Frost and Starlight was a bit like sitting down in hopes of a major meal and being served chicken broth instead. While the chicken broth will certainly suffice, but it left me feeling unsatisfied. Considering that the next installment will likely be released next year, perhaps that was the Maas' point. To give her readers just a taste, but to keep them wanting more.
My rating: 3.5/5
You can find A Court of Frost and Starlight here on Amazon or here on Book Depository.
Happy reading everyone!